About Us
Leroux Brothers, Inc.
1369 Glover Road
Barton, VT 05822
toll-free 1.800.420.4330
local 1.802.525.4330
fax 1.802.525.3116
(photo: the 2012 Kindergarten class of Diane Marcoux-LaClair, in Hyde Park, Vermont, at the second annual "inventors" project. Dale has served as "guest judge.")
Leroux Brothers is a family business, lead by Dale Leroux. Our team features our father and sister, plus a team of specialized mechanics who work along side us.
Dale Leroux - BS, Civil Engineering, University of Vermont.
Diane Leroux-Fortier - Administration, office management
Renee Leroux - Retired highline electrical lineman, Flatbed Truck operation and vehicle retrieval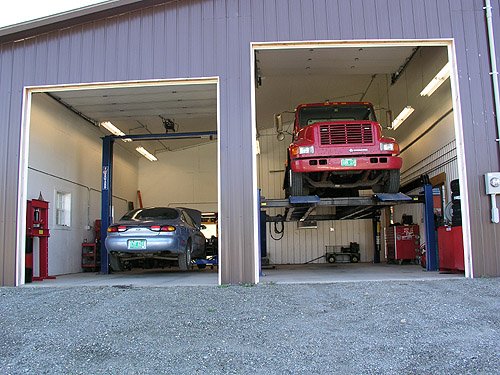 We have decades of experience in automotive repair specifically, and mechanical repair generally. We have been rebuilding transmissions for nearly twenty years. We have successfully rebuilt lasting transmissions for:
Commercial Plow Vehicles
Emergency Vehicles
Passenger Cars and Minivans
Hybrid Gas Electric "Green" Vehicles (Prius, Civic, Insight, etc.)
Antique and Collectible Vehicles
Motorhomes and other Recreation Vehicles
Delivery and Panel Trucks
Industrial Forklifts
Municipal and Construction Vehicles
Our clients are located across Northern New England. We can arrange for vehicle pick up via our own flatbed, and work with commercial large truck tow companies for larger vehicles.
We provide comprehensive transmission rebuilding, and also can provide installation for remanufactured or used transmissions at the request of our customers. We typically have an inventory of the most common transmissions for commercial plow trucks, pick up trucks, and other high use vehicles. We base our inventory supply on our history of repair... we stock what we commonly sell.
Our repair facilities feature four complete vehicle bays, and a large "laboratory" where we carefully disassemble, and rebuild transmissions, complete with our proprietary, proven modifications.
Finally, a word on our philosophy about integrity and performance. (Dale has been on race teams, as a mechanic and driver, in track vehicles and snowmobiles and more.)
We believe that our services should exceed expectations, and those expectations should be clearly communicated to our customers. We believe our customers come to us for our expertise, and for the quality of the work we continue to perform, and it is our goal to grow, improve and expand our knowledge base in the continued pursuit of professional transmission repair specifically, and complete vehicle repair generally.